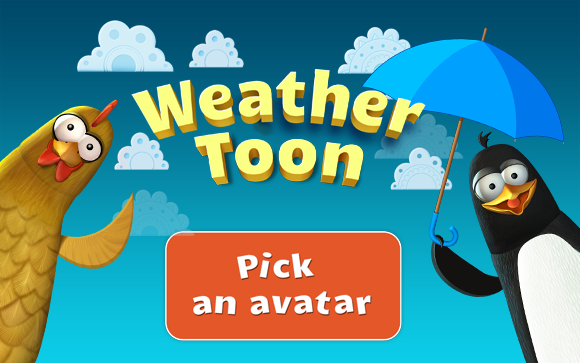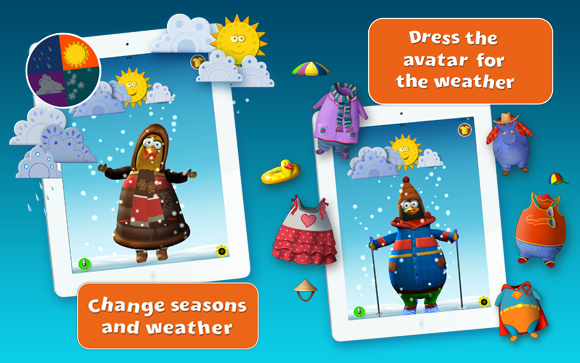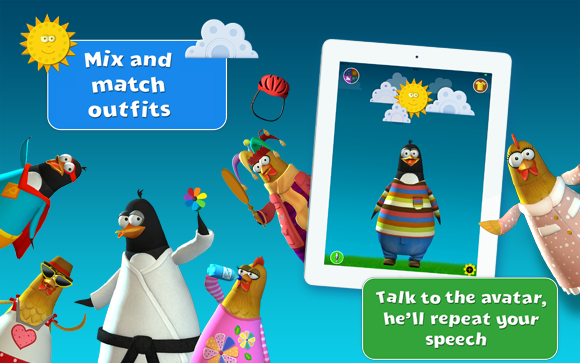 WeatherToon
From the developers of the all time favorite The Nutcracker and the Mystery of the Disappearing Cheese and the award winning Goodnight ABC continuously featured by Apple in Apps for Parents.
A unique, entertaining, educational weather app that teaches kids about the four seasons, weather and how to dress for various weather conditions in a such a fun way that children wouldn`t want to put it down. No more arguing about getting dressed in the morning!
Features:
2 adorable animated animal avatars (a choice between male and female avatars) that can be dressed up in different clothes and accessories
the avatars can repeat your speech and do a number of funny kid-friendly animated tricks
the avatars react to the touch
the avatars react to the closing and accessories you put on them
you can choose between 4 different seasons and weather conditions
a pull out shelf with many different clothes and accessories to choose from
hilarious animations
amusing sound effects
child friendly
Privacy Policy for the WeatherToon app:

1. ADS
This app does not allow companies to show ads or collect data

2. SOCIAL
This app does not enable social networking features. Our Facebook and Twitter pages may be accessed through the special FOR PARENTS section in the Settings, which required a double click to enter.

3. LOCATION
This app does not transmit precise (GPS) location data

4. WEB
This app does not link to external web sites. Our webpage (Appypup.com) may be accessed through the special FOR PARENTS section in the Settings, which required a double click to enter.

5. PURCHASES
This app does not allow in-app purchases.

6. AGE
The minimum recommended age for this app is 2+
| | |
| --- | --- |
| | Download Weather Toon for iPad, iPhone and iPod touch |
The Nutcracker




and The Mystery of The Disappearing Cheese
Let your kids take a trip to a land of wonder and make-believe! The Nutcracker is so much more then a collection of educational games. It`s every child`s fantasy, a unique chance to be an active participant in a timeless story of courage and compassion. Watch a fun cartoon, listen to the fascinating story, enjoy classical melodies, and step inside the magnificent Stahlboum`s mansion where all the magic happens!
Key Features:
6 beautifully crafted characters
6 unique rooms
numerous activities for each character
over 2 minutes of animated intro
integrated storybook
enchanted music by Tchaikovsky
6 imaginative play activities
7 exciting educational games
No time limits or stress
Child friendly interface
Gorgeous original art
Fully interactive
Simple visual instructions that display and hide automatically
No third party advertisement
No in-app purchases
Activities that entertain, educate, and nurture imagination:
Play dress up with 4 of the characters
Mix and match outfits, accessories hair styles and more
Bake and decorate a cake
Add logs to the fireplace
Play with tin soldiers
Drive a train
Decorate a Christmas tree
Games that entertain and provide critical learning experiences:
Counting game (practice number recognition and counting to 20)
Writing game (practice fine motor skills, writing upper case letters)
Memory game (exercise your child`s memory)
Labyrinth game (practice problem solving, fine motor skills, navigation skills)
Matching game (exercise memory, upper and lower case letter recognition and matching)
Sorting game (practice sorting objects by shape and color)
Patterns game (practice logical thinking, pattern recognition)
Privacy Policy for The Nutcracker app:

1. ADS
This app does not allow companies to show ads or collect data

2. SOCIAL
This app does not enable social networking features. Our Facebook and Twitter pages may be accessed through the special FOR PARENTS section in the Settings, which required a double click to enter.

3. LOCATION
This app does not transmit precise (GPS) location data

4. WEB
This app does not link to external web sites. Our webpage (Appypup.com) may be accessed through the special FOR PARENTS section in the Settings, which required a double click to enter.

5. PURCHASES
This app does not allow in-app purchases.

6. AGE
The minimum recommended age for this app is 2+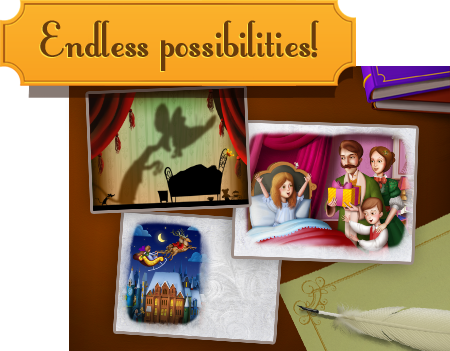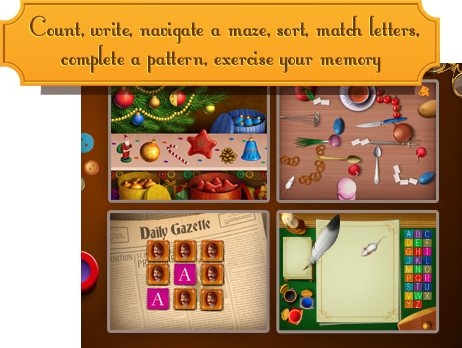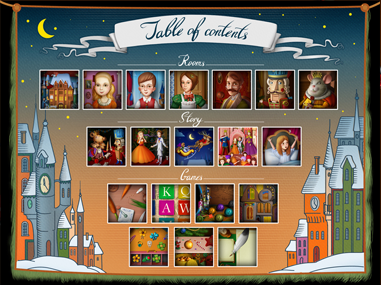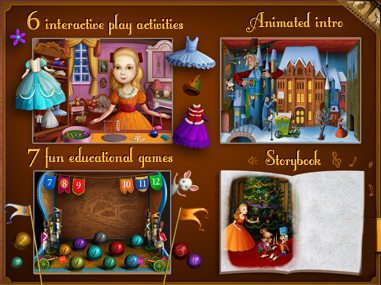 Goodnight ABC
Goodnight ABC is a revolutionary fully interactive App that makes learning ABCs and Phonics feel like playing a game. Filled with colorful original art, sound effects, animals, whimsical objects, and loads of interactive features and animation the App teaches letters of the alphabet, letter sounds, vocabulary, numbers, colors, the basics of physical world, technology, and so much more.
Goodnight ABC captures children`s curiosity to help them gain knowledge, develop problem solving skills, logic, memory, imagination, and creativity through play and exploration. Vibrant graphics, exciting sound effects, and delightful animation make this app so thrilling your child wouldn`t want to put it down!
Each letter is a fully equipped interactive playroom, a micro world filled with creatures and objects the child can manipulate and explore. Play basketball with Bear, shop in a chic boutique with Zebra, take a ride in a hot air balloon with Turtle, have fun at the circus with Seal, become a doctor with X-Ray Fish. It`s always educational and never boring. Touch, tap, and drag every inch of the screen to uncover more items, set things in motion, assemble and disassemble devices, and find exciting games. Discover how things work. Explore nature and technology. Become an artist in your own right and color each picture. When you are done exploring, put the animals to bed and say good night. Learning through play is fun, fun, fun!
Privacy Policy for Goodnight ABC app:

1. ADS
This app does not allow companies to show ads or collect data

2. SOCIAL
This app does not enable social networking features. Our Facebook and Twitter pages may be accessed through the special FOR PARENTS section in the Settings, which required a double click to enter.

3. LOCATION
This app does not transmit precise (GPS) location data

4. WEB
This app does not link to external web sites. Our webpage (Appypup.com) may be accessed through the special FOR PARENTS section in the Settings, which required a double click to enter.

5. PURCHASES
This app's iPad version does not allow in-app purchases. This app's iPhone/iPad version is free with an in-app purchase option.

6. AGE
The minimum recommended age for this app is 2+
| | |
| --- | --- |
| | Download GoodnightABC for iPad, iPhone and iPod touch |